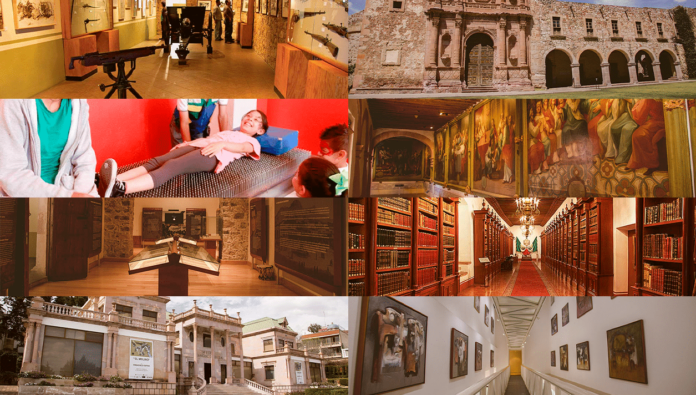 The state of Zacatecas has important museums that house large collections.
Manuel Felguérez Museum
Abstract art is the protagonist in this large space with 15 rooms. It is the only museum of its kind in Latin America. A journey through the fascinating art of this Zacatecan artist. The compound has been used as a military and penal barracks for Zacatecas. In addition, its interior patio is the sculptural work "Route of friendship", made in the framework of the 1968 Mexico Olympic Games.
Pedro Coronel Museum
Here you will find a vast collection of international art highlighting works by Kandinsky, Picasso, Goya, Miró, and Dalí, among others; as well as ancient art. Contemporary art is enjoyed in each of its rooms. This collection was donated by Pedro Coronel and he was buried in this same place.
Guadalupe Museum
Sacred and viceregal art and the evolution of transportation in Mexico are just some of the themes that this museum, declared Cultural Heritage of Humanity by UNESCO, embraces. It has an impressive and beautiful library with valuable literary works. In addition, this site is home to the Baroque Festival.
Rafael Coronel Museum
Located in the old San Francisco Convent, it houses an amazing collection of masks, Mesoamerican vessels, and puppets by Rosette Aranda, this museum becomes a unique experience for visitors. An obligatory stop to get to know Mexican popular art fused with the same work by Rafael Coronel.
Francisco Goitia Museum
This great residence was previously assigned to the governors of the state. Currently, this building has more than 100 years of contemporary art from Zacatecas and from the rest of the country. The great works of Goitia can be found here and Felguérez's serigraphs are also exhibited.  
Zacatecano Museum
This space was the second most important Mint in Mexico. Now, its rooms have archaeological pieces, colonial blacksmithing, and various numismatic elements of Zacatecas. The mural "Vision of a mystical world" is of great importance. A museum for the culture, religion, and tradition of this state.
Toma de Zacatecas Museum
It was built in 1984 with the intention of providing an interactive experience for visitors to learn about one of the most important episodes of the Mexican Revolution, all the detail that defined the Battle of Zacatecas in 1914.
ZigZag Museum
An ideal place for children to learn while having fun. Science and technology come together so that, in an interactive way, the origin and functioning of various things that surround us can be learned. It has eight themed rooms and even the little ones can lie down on a bed of nails!