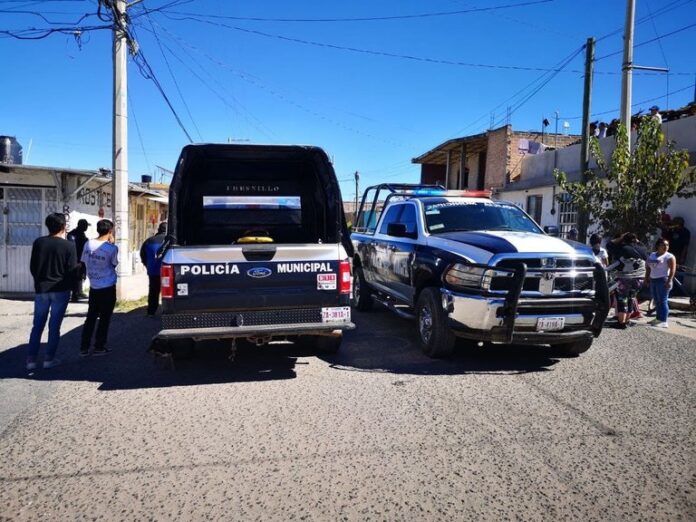 It was a bloody Thursday, October 28th in the state of Zacatecas: during the morning, two corpses with signs of torture were discovered while they were hanging from a fence of the Rivera dam, other tragic incidents took place in Fresnillo and also in the municipality of Jerez de García Salinas.
During the afternoon of this Thursday, October 28, an armed attack was registered in Zacatecas that left four people dead. Several heavily armed men arrived at the Bardo's Pizzeria, located on Del Magnesio street in the municipality of Fresnillo, and executed four employees.
The victims of the multi-homicide perpetrated around 3:00 p.m. were identified as two men and two women. According to preliminary reports, three died at the scene of the shooting and another, seriously injured, was taken to a hospital, where she later died.
Dozens of students from the José Revueltas elementary school were sheltered due to their proximity to the scene of the massacre. The pizzeria was cordoned off by Municipal Police officers, who argued with relatives of the victims who were trying to enter the crime scene.
Elements of the State Preventive Police, the Mexican Army, and the National Guard, together with personnel from the State Attorney General's Office (FGJE) and the Zacatecano Institute of Forensic Sciences (IZCF), arrived to carry out the removal of the corpses, secure the area and initiate the corresponding investigations.
It happened when a command arrived at the Bardo's pizzeria, located on Del Magnesio street in the municipality of Fresnillo, and executed four employees (Photo: Twitter / @ JOSEANGELMART18)
---
The victims were not immediately identified.
Last Tuesday, a group of armed men stormed a funeral, also in Fresnillo. The aggressors fired at the relatives of the deceased – who had been murdered on Sunday – the toll was two dead and three more seriously injured.
The attack occurred at noon in the Real de Minas neighborhood, where the ceremony was taking place. Public Security agents have not been able to identify those responsible and there are no detainees.
Since the beginning of the year, violence has intensified in Fresnillo, the municipality where its inhabitants feel most insecure to live. This, according to the local authorities, is the product of the dispute between different organized crime groups, mainly the Sinaloa Cartel and Jalisco Nueva Generación. Official figures establish that up to September of this year 840 people were murdered.
The recent National Urban Public Safety Survey (ENSU) registered that with almost 250,000 inhabitants, the municipality of Fresnillo once again positioned itself at the top of the list of the six most unsafe cities in the country (Photo: Archive)
Source: INFOBAE